Portrait of a Character – Eleanor Daniels
Origins
Richard Daniels didn't necessarily need to have too much of a contemporary extended family. But I did need someone who could be a bit of an expository mouthpiece. By making his sister, Eleanor, the docent at the Temporal Museum on Lafa II, she can convincingly explain both history and what happened in between, all while pushing the story line along painlessly.
Portrayal
Eleanor is portrayed by English actress Cate Blanchett. I love her intelligence, elegance, and versatility.
Personality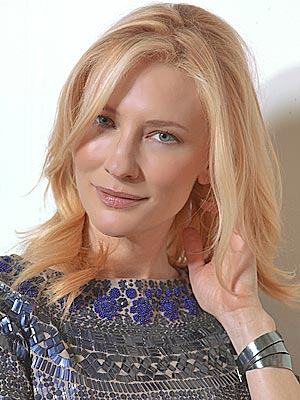 Elegant, refined and intelligent, Eleanor is also incredibly lonely at the beginning of the HG Wells stories and, most likely, during Temper as well, which is something of a prequel to that series and serves as one of the bridges from In Between Days.
In Temper, one of the things I did early on was establish her expertise about both our universe and the mirror, and about the Calafans as well. It isn't until much later in that story that it's revealed that she wears the Cuff of Lo, which had been worn by Declan and Malcolm Reed long before her, and by Lili O'Day before them and then Yipran before her.
After Temper, Eleanor takes a bit of a break and does not show up again until A Long, Long Time Ago (the prequel for that story is A Lesson). By the time of Ohio, it's established that she is hoping for a relationship.
Like Richard, a Mirror Universe version of her is impossible.
Relationships
They meet during Ohio, when the Human Unit at the Temporal Integrity Commission goes out for drinks after work at a dance club called The X Factor. Richard has invited Eleanor along at the insistence of his parents (they mention that they hope she can meet someone, perhaps a friend of his, during A Long, Long Time Ago). While HD Avery is very, very interested, it's Tom Grant who grabs Eleanor's attention. They chat and hit it off, and exchange information. But she waits for him to contact her first, as she's tired of being the instigator.
But things start off a little bumpy between them. In You Mixed-Up Siciliano, Tom asks her out and she accepts, but that's while the timeline is still messed up. Once the line is restored, she's confused when he calls. Terrified that's she's forgotten him, and he's completely blown it, Tom backs off.
But during Spring Thaw, she gives him another chance, and lets him know that the restoration and resetting of timelines means that there are, more or less, infinite chances to get things right. When Where the Wind Comes Sweepin' Down the Plain ends, Tom is distraught over what he's had to restore and, even though he had planned it for a more beautiful moment, he blurts out that he loves her. For a character who is somewhat controlled – they both are – Tom's confession is a much more natural way for him to behave. Eleanor is able to bring this out of him.
In The Point is Probably Moot, the breach in the timeline briefly wipes Eleanor from existence and Tom, of course, is again distraught. He frets that somehow she knows, and is frightened and alone. In Shake Your Body, Eleanor locates a major clue at the Museum, and Rick brings Tom along to investigate. In part this is for assistance, but it's also because Rick knows that he and Tom are going to be kept in more and so he generously gives them a chance to see each other before the forced separation. Tom tells her that, once the line is restored, he never wants to leave her again, and that it means what she probably thinks it does, an echo of Doug telling Lili that he was committed to her. Essentially, he has proposed to her. Eleanor also has given Tom the Cuff of Lo by now, a symbol of their commitment. As she puts it, she's supposed to give it to her true love, an echo of Lili having given it to Malcolm.
By the time of He Stays a Stranger, the timeline is so damaged that Eleanor is marrying Troy Scott. Rick runs in, in order to try to stop the wedding but, since Rick is considered wiped from existence (he is protected by a temporal force field, so he is still intact but not known to the regular populace), their parents and Eleanor do not recognize him, and he is thrown out of the church.
Quote
"There are, we believe, an infinite number of universes. What is most intriguing about the mirror is how very close it is to our own. We have a kinship with the mirror that we simply don't have with any of the others."
Upshot
While this character was originally intended to mainly be a plot device, she has worked overtime – in particular with Tom Grant – and also works well as a continuing thread in the HG Wells stories, helping to give them more coherence. I like how she turned out.
My thanks again to Joshawott of the Star Trek Photo Manipulation Archive for his terrific photomanipulation of Cate Blanchett.
Related articles