Progress Report – December 2014
Posted Works
I was rather busy, so it turned out to be a good month to add stories to context.
I added the following stories to In Between Days context: Linfep Linfep Linfep, About Nine Months, Faith and Who Shall Wear the Robe and Crown?
I added the following stories to The Times of the HG Wells context: Where O Where; and Dishing it Out.
I added the following stories to Hall of Mirrors context: The Conspiracy, Gilded Cage, That's Not My Name, It Had to Be You, Who Shall Wear the Robe and Crown?
To respond to a prompt about family and provide a little holiday story, I wrote Eight.
On the G & T Show website, I added Smash Your Dominion and Wider Than the Sargasso Sea. In the Gentle Slash topic, I added Red and A Perfect Note.
Milestones
On the 12th of December, Untrustworthy was published!!! It's been quite a wild ride.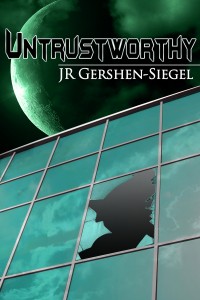 Ten stories have over 4,000 reads and over 50 reviews. See the Stats page for individual read and review counts.
WIP Corner
I worked on The Badge of Humanity, the third and (presumably) final story in the wholly original Obolonk trilogy.
Prep Work
I worked on the jespah site, modernizing it. I'm really happy with it now. I also spent a lot of time on promoting Untrustworthy, requesting reviews, etc. I was even interviewed!
This Month's Productivity Killers
I was published! If course this was a fantastic reason to not be writing fan fiction. I also worked on wholly original work so that kept me away from fan fiction writing.
Work! I started working as an SEO Specialist for WebTekPro.
Like this page? Tweet it!
---
You can find me on Google+.
Related articles